What is Raku?
Raku is a particular type of pottery developed by the early Japanese potters. Pottery was glazed and fired at Tea Ceremonies and the bowls were used by the participants.
Pots are first bisc fired, (leaving them sufficiently porous, to withstand thermal shock). Work is glazed, then placed in the kiln and extracted as soon as the glaze has melted and matured (between 750-1000°c). Pots are heated to this temperature in about 40 minutes.
Pots are removed from the kiln at this stage, using protective gloves and tongs. Pottery can either be placed immediately into sawdust (which will ignite), or sometimes pots are left outside for a few seconds to help encourage the glaze to crack, if desired. Pots are then buried in sawdust, allowing carbon to penetrate the cracks. When pots have cooled sufficiently, they are removed from the sawdust and cooled down, then submerged completely in water. Pots are then cleaned with wire wool and finally, hopefully admired.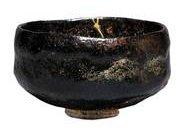 Raku Tea Bowl, British Museum
1 DAY RAKU WORKSHOP
We will be running private one-day Raku Pottery workshops in London, on the following dates:
DATES

Saturday 5th August 2017 Full
Sunday 20th August 2017 Full
Saturday 26th August 2017 Full
Saturday 2nd September 2017 Full
(In severe weather conditions it may be necessary to cancel the course, if so we will offer an alternative date or full refund.)
TIME
10 am (prompt) to 5pm – This may run over!
COST
£60.00 per day
CATERING
Please bring a packed lunch. We provide tea, coffee and homemade cake.
VENUE
3 Albert Road, South Woodford London E18 1LE. (3 minutes from South Woodford Central Line Station).
Places are limited, so please book early to avoid disappointment.
You will need to have a small selection of bisc fired pots to fire on the day. Items should not be too heavy or wobbly, as removing them from the kiln is hazardous. Earthstone Handbuilding, Crank clay, and
white St
Thomas are all s
uitable for Raku, but you may suffer breakages in any case. Some forms are less suitable for Raku than others.
Items that are unsuitable will NOT be fired. If in doubt, please contact Sarah on 0208 989 3782 or email sarahj.partridge@virgin.net.
We have simple bisc fired pots available at £4 each, but please let me know if you will need these, so that we are well stocked.
Suitable clothing should be worn, i.e. enclosed shoes (no sandals) old clothes, not loose or flowing.
…………………………………………………………………………………………………….
BOOKING FORM
Name ……………………………………………………………………………………..
Telephone and Email …………………………….………………………………………
Course date …………………………………………..…………………………………..
For postal bookings, please enclose your payment of £60.00 with this booking form, with cheques made payable to Sarah Partridge.
Send to - 3 Albert Road, LONDON E18 1LE
BACS payment details available upon request.
Your booking will be confirmed via email, upon receipt of payment.
Our one day Raku courses are very popular, with most people returning again and again. It's an exciting day, where Potters experience the whole firing process.